Lead & Deep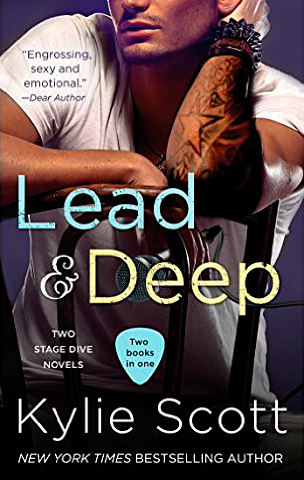 Rock on with these final two novels in the Stage Dive series!
LEAD
As the lead singer of Stage Dive, Jimmy is caught up in a life of hard partying and fast women. When a PR disaster lands him in rehab, he finds himself with Lena, a new assistant hired to keep him out of trouble. Lena's determined to keep their relationship professional, despite their sizzling chemistry. Can Jimmy convince her to mix business with pleasure―and follow her heart?
DEEP
Positive. With two lines on a pregnancy test, Lizzy Rollins's ordinary life is about to change forever―all because of one mistake in Vegas with Ben Nicholson, the sexy bass player for Stage Dive. When Ben is forced to keep the one girl he has a weakness for out of trouble, he learns that what happens in Vegas doesn't always stay there… Now he and Lizzy are connected in the deepest way possible. Will it lead to a connection of the heart?
Where to Purchase:
Where to Pre-Order:
Purchase the Audiobook:
Purchase the eBook or Paperback:
LEAD
"Stay up all night with the sexy rockers in Stage Dive, and find out why Kylie Scott has become one of Australia's bestselling authors." ― Queensland Times
"I can't express how much I love Lead and the entire Stage Dive series. Kylie Scott rocks!" ― Red's Hot Reads
DEEP
"Once you start a Stage Dive novel, you won't be able to put it down." ― USA Today
"A dose of romance, hot sex and rock 'n' roll in the salacious setting of Las Vegas" ― Cleo
"If you're looking for characters you can fall in love with, good dialogue, and a high heat factor, then DEEP by Kylie Scott is for you." ― Fresh Fiction