Love Under Quarantine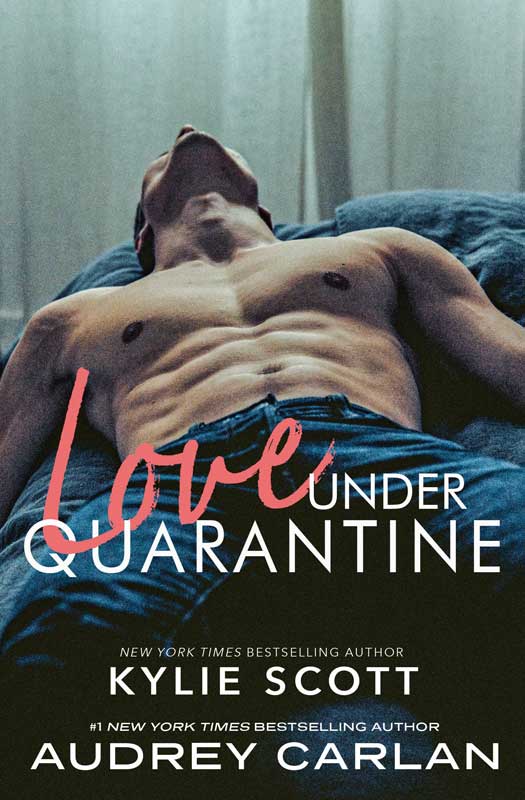 While the world is ravaged by a global pandemic, hotshot NFL running back Evan Sparks is locked in his own personal hell. With a career-ending scandal on his back, Evan hides out in his best friend's empty San Francisco home, the full city shutdown locking him in a lonely twenty-story apartment in the sky.
Romance writer Sadie Walsh is having the worst case of writer's block ever…until the incredible, muscular stranger staying next door gets her muse going strong. The pair of loners, never expecting to find a friend in all the madness, meet each day out on their balconies like a modern-day Romeo and Juliet.
Each new day brings unique challenges for the pair as they navigate the unknown and find solace together. They quickly figure out that as long as they have one another, they can handle anything.
Even falling in love under quarantine.
Writing together for the first time, New York Times bestselling authors Kylie Scott and Audrey Carlan team up to tell a story that not only is a beautiful escape during a trying time, but a true lesson on the power of humanity's ability to survive. Through a sexy, hopeful, strangers-to-lovers romance, the authors prove with love, trust, and faith, we can conquer anything.
Where to Purchase:
Where to Pre-Order:
Purchase the Audiobook:
Purchase the eBook or Paperback:
"Kylie Scott and Audrey Carlan weave a charming and witty romance into a confusing and stressful real-life scenario and the result is magic. Sexy, humorous and sweet, this is a quarantine must-read!" ― Devney Perry, USA Today bestselling author
"You need to read this book for the phone sex, Gloria the devil kitty, and the candy alone. Oh and the touch of drama and scandal will keep you on your toes waiting to see how everything plays out!" ― Life Reads With Friends Blog
"Beautifully written love story with two characters that find love in the most unexpected moments, steamy scenes that will make you hot and bothered and real feelings about family, friends and our social interaction and life." ― Liana Reads Blog
"Love Under Quarantine has the snarky rapport and laugh out loud humor we expect from Kylie Scott. It also has the quick-witted dialogue and smoking hot character connection expected from Audrey Carlan. These two authors came together and wrote a book that will go down as a favorite read of 2020." ― The Book Reading Gals