Trust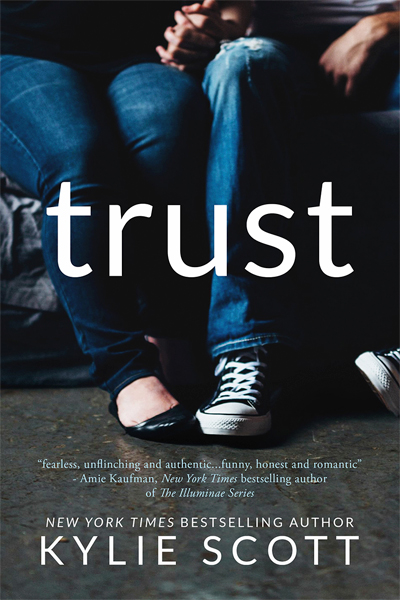 Tropes: Friends to Lovers
Being young is all about the experiences: the first time you skip school, the first time you fall in love…the first time someone holds a gun to your head.
After being held hostage during a robbery at the local convenience store, seventeen year old Edie finds her attitude about life shattered. Unwilling to put up with the snobbery and bullying at her private school, she enrolls at the local public high school, crossing paths with John. The boy who risked his life to save hers.
While Edie's beginning to run wild, however, John's just starting to settle down. After years of partying and dealing drugs with his older brother, he's going straight—getting to class on time, and thinking about the future.
An unlikely bond grows between the two as John keeps Edie out of trouble and helps her broaden her horizons. But when he helps her out with another first—losing her virginity—their friendship gets complicated.
Meanwhile, Edie and John are pulled back into the dangerous world they narrowly escaped. They were lucky to survive the first time, but this time they have more to lose—each other.
Trigger warning: Violence.
Where to Purchase:
Where to Pre-Order:
Purchase the Audiobook:
Purchase the eBook or Paperback:
"Heart-pounding, realistic and wonderfully unique, Kylie Scott's Trust held me captive, fascinated, and riveted to the page from start to finish. A MUST, simply incredible, read!" – Katy Evans, New York Times bestselling author of Tycoon
"Trust is equal parts fearless, unflinching and authentic—and funny, honest and romantic. Is there anything Kylie Scott can't do? This is an incredible entrance onto the YA scene, and will cement Kylie Scott as a must-read for anyone who picks it up." ― Amie Kaufman, New York Times bestselling author of The Illuminae Series

"Trust was an amazing journey that I could not put down! All of my favorite things: young love, a strong heroine, and an absolutely captivating hero, who's both sexy and bad in alllll the right ways. Loved it!" ― Penelope Douglas, New York Times bestselling author of the Fall Away Series
"This book has reminded me why YA is my favorite genre. Emotional, real and thought-provoking." ― L.J. Shen, bestselling author of the Sinners of Saint Series