Flesh Series Box Set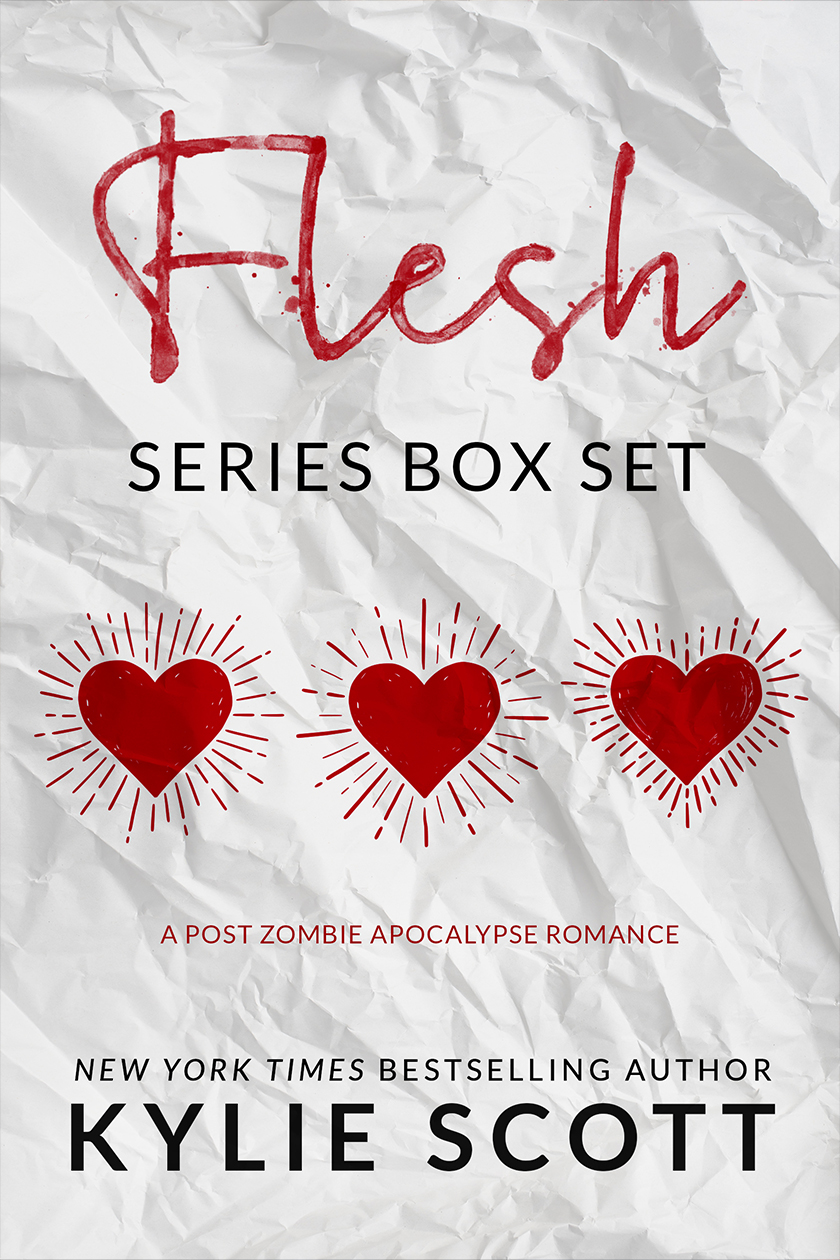 For the first time ever, the complete Flesh Series by New York Times and USA Today bestselling author Kylie Scott is now available at a reduced price.
Flesh.
Ali has been hiding in an attic since civilization collapsed eight weeks ago. When the plague hit, her neighbors turned into mindless, hungry, homicidal maniacs. Daniel has been a loner his entire life. Then the world empties and he realizes that being alone isn't all it's cracked up to be. Finn is a former cop who is desperate for companionship, and willing to do anything it takes to protect the survivors around him. When the three cross paths they band together; sparks fly, and romance blooms as the three battle to survive.
Skin.
Six months since the zombie plague struck, former librarian Roslyn Stewart has been holed up in a school with eight other survivors. But now the shelves in the school canteen are bare. The stranger at the gate has supplies that will ensure the group's ongoing survival, but at a cost. He wants a woman.
Flesh Series Short: Room with a View.
Natalie has watched as the zombie plague devastated civilization. Angus had been a miracle. Twenty-three years old and gorgeous he had appeared like Romeo and thrown supplies up to her balcony. But now Angus is gone. Stranded four floors up and fenced in on all sides by the infected, food and water supplies are running as low as Natalie's spirits. But then she sees Angus. Can he make it past the infected to reach her? And what will it mean if he does?
Flesh Series Short: What Trouble Is.
112 days since the Zombie Plague struck, Lindsay Robertson's on the run, looking for a place to start over. Accidentally crossing paths with a tall, handsome Englishman was not part of her plan. But now both have drawn their guns and neither is willing to back down. Trust is a lost commodity in the new world and Lindsay has more at stake than most…
Trigger warning: Violence.
Where to Purchase:
Where to Pre-Order:
Purchase the Audiobook:
Purchase the eBook or Paperback: